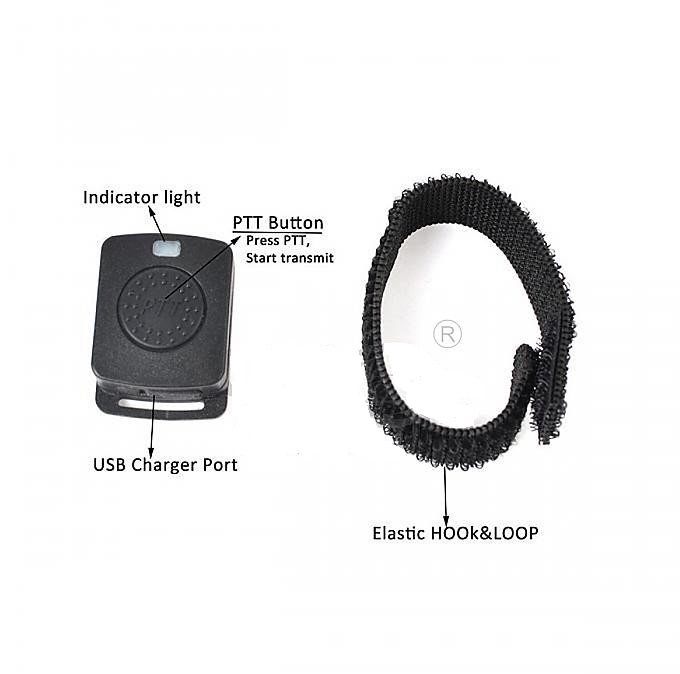 Bluetooth Headset ,Bluetooth Headset Earpiece Wireless PTT HT Walkie Talkie -Moto-rola for CT450, GP68, GP308, CT250
Bluetooth Headset ,Bluetooth Headset Earpiece Wireless PTT HT Walkie Talkie -Moto-rola for CT450, GP68, GP308, CT250
Description



Bluetooth Headset Earpiece Wireless PTT HT Walkie Talkie -Motorola for CT450, GP68, GP308, CT250

Description






4-184M

Bluetooth Headset Earpiece Wireless PTT HT Walkie Talkie -Motorola for CT450, GP68, GP308, CT250

High Quality Bluetooth Headset for Two Way Radio

Motorola /Feidaxin / KIRISUN - Walkie Talkies - M Jacks

Looking for the best quality dual device pairing, two way radio Bluetooth headset? The 4-182M is an upgraded model to include the popular HD Noise cancelling DSP earpiece providing excellent audio response and also superb noise cancelling on both the microphone and earphone functions. Dual pairing Bluetooth version 4.0 allows the headset to simultaneously operate with both a HT walkie talkie and also with another Bluetooth device such as a smartphone or tablet. We carefully selected the components to provide the best quality BT kit on the market.

Compare before you buy!

The BTHD1 kit includes additional accessories that other headset kits do not. We value add these items:

USB Wall plug 90-240Vac adapter
micro USB cables - Charge all three devices at once
Fabric clip for attaching the PTT (push to talk) switch to clothing
Pre-paired headset, transmitter and PTT switch to work right out of the box
Cloth drawstring bag to protect and carry the kit accessories


Ships same or next business day from our HONGKONG warehouse.

Talk Time: 8 hours typical
Charge Time: 2 hours
Standby mode: 2 days typical
Two way radio wireless adapter, bluetooth headset v4.0, wireless 2.4 GHz PTT switch

How to change language:
Press On/Off button and volume plus button to change language

Kit Contents

1 x Bluetooth Headset - v4.1 Dual Pairing

1 x Two Way Radio Bluetooth Dongle

1 x Wireless Bluetooth PTT FOB

1 x Charging Cable – Dual Output

1 x USB Wall Charger 100 - 240Vac / 5Vdc 1A

1 x User Manual
How to connect the bluetooth headset to the two way radio?
1. Alibaba assessed 4 years gold supplier. our pre company:Quanzhou Interphone Electronics Co.,LTD

2. Reply your inquiry in 24 working hours.
3. Well trained experienced staff reply all your questions.
4. Customized design is available, OEM are welcomed.
5. Fast delivery to customers all over the world after deposit.
6. 100% QC inspection before shipment.
7. One year warranty for radios, six month for accessories.
8. Excellent after-sales service.
♥ Note: If further information, welcome to contact us in any time !
Andrew contact info
Andrew chan
Quanzhou Yutong Electronics Co.,Ltd
Tel: +86 595 22392886 Fax: +86 595 22392886
Skype:asia.radio.sale
Web: http://www.brandmarkets.com &; http://interphone.en.alibaba.com
Email: interphone07@gmail.com
Car radio walkie talkie
8watt walkie talkie
GSM walkie talkie
Two way transceiver
DMR walkie talkie
Digital walkie &; talkie
TG-900PLUS
PMR Radio
Handheld radio
Walkie &; talkie
Dual band walkie talkie
Ham two way radio
UV 5R UV-5R UV-5RA / B / C /D / E
Cheap two way radio
Cheap dual band walkie talkie
Ham radio
Amateur Radio
Interphone
Walkie talkie
Walkie-talkie
Walky talky
2 way radio
Two way radio
CE,ROHS approval Radio
FCC approval Walkie talkie
Two way transceiver
SSB Transceiver
Two way interphone
CB radio
446MHz radio
467MHz radio
Thailand walkie talkie
Long range walkie talkie
Mini walkie talkie
8 Watts walkie talkie
UV-82HP
Baofeng UV-82HP
BAOFENG UV-5R
HF radio transceiver
Ham radio
Two way transceiver
Baofeng two way radio
Baofeng UV-82
TG-900PLUS PMR Radio
Handheld radio
Walkie &; talkie Dual band walkie talkie
Ham two way radio
UV 5R UV-5R UV-5RA / B / C /D / E
Cheap two way radio
Cheap dual band walkie talkie
Ham radio
Amateur Radio
Interphone
Walkie talkie
Walkie-talkie
Walky talky
2 way radio
Two way radio CE,ROHS
approval Radio
FCC approval
Walkie talkie
Two way transceiver
SSB Transceiver
Two way interphone
Car radio walkie talkie
8watt walkie talkie
GSM walkie talkie
Two way transceiver
DMR walkie talkie
Digital walkie &; talkie
TG-900PLUS
PMR Radio
Handheld radio
Walkie &; talkie
Dual band walkie talkie
Ham two way radio
UV 5R UV-5R UV-5RA / B / C /D / E
Cheap two way radio
Cheap dual band walkie talkie
Ham radio
Amateur Radio
Interphone
Walkie talkie
Walkie-talkie
Walky talky
2 way radio
Two way radio
CE,ROHS approval Radio
FCC approval Walkie talkie
Two way transceiver
SSB Transceiver
Two way interphone
CB radio
446MHz radio
467MHz radio
Thailand walkie talkie
Long range walkie talkie
Mini walkie talkie
8 Watts walkie talkie
UV-82HP
Baofeng UV-82HP
BAOFENG UV-5R
HF radio transceiver
Ham radio
Two way transceiver
Baofeng two way radio
Baofeng UV-82
Dual band ham radio
Mobile radio
Vehicle radio
Best radio battery
Wouxun KG-UV8D
Handheld two-way radio
Baofeng UV5RA
Wouxun KG-UVD1p
VHF/UHF radio
Dmr digital radio
CE FCC approval walkie talkie
Cheap walkie talkie
Pofung UV-5rd
Two-way radio
Handheld radio
Dual band radio VHF UHF
PMR 446 walkie talkie
Licence free walkie talkie
Best two way radio
Long range powerful professional walkie talkie
Military walkie talkie
Interphone
Intercom
Mini UHF radio
Walky talky long distance
8watt long range walkie talkie
Two way radio 8watt
Base radio
Baofeng walkie talkie
HF radio
Portable radio
Handy talky dual band interphone
Dual band mobile transceiver
VHF UHF FM transceiver
Hany talky
Dual band handy talky
Long range walkie talkie
VHF walkie talkie
UHF walkie talkie
Cheap dual band walkie talkie
10watt walkie talkie
Cheapest walkie talkie
Ham radio japan
Football walkie talkie
Transceiver
Police radio UHF
BF-888S
Imtercom
Handy walkie talkie
FCC approval radio
Military HF handy talky radio
Two way ham radio
Amateur radio
Digital walkie talkie
Portable walkie talkie
Radio headsets
UV5R walkie talkie
VHF/UHF interphone
Handheld interphone
Professional FM transceiver
Cheap UHF dual band ham radio
Mini FM receiver/transceiver
2-way radio
Wireless walkie talkie
Bluetooth walkie talkie
Cb radios